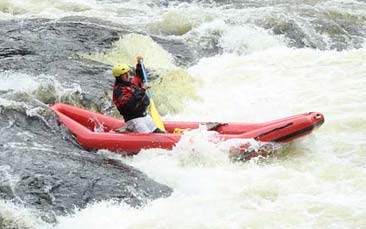 If you're after the ride of your life then our duckies activity might be just what you're looking for on your hen weekend! Not quite as sweet as its affectionate name might suggest, duckies are a whole world away from the bathtub friends you played with as a kid.

Duckies are in fact a smaller hybrid water vehicle which is a cross between a white water raft and a kayak - but a whole lot more out of control. The choppier the waves get and the more the Scottish rain falls, duckies simply get more and more fun, slipping and sliding all over the place. Think you and your hens can handle it? Holding only 2 people, our duckies activity makes for a great hen party highlight for those seeking a little action and adventure on their hen weekend.

Certainly not recommended for the faint hearted, this wet and wild activity will get everybody's adrenaline flowing and is perfect for washing away those fuzzy hen hangovers. The nearly wed won't be worrying about the cake or the flower arrangements when she's hurtling down Scottish rapids with one of her best hens, laughing and screaming in equal measure.

Make sure to get a memorable hen party selfie with your hens and your unique vessel before ditching those wet clothes and getting ready for a big night out on the town! You'll probably want to grab a drink to settle the nerves after this once in a lifetime, unforgettable adventure, so head to the pub and have a giggle with your fellow drenched hens.