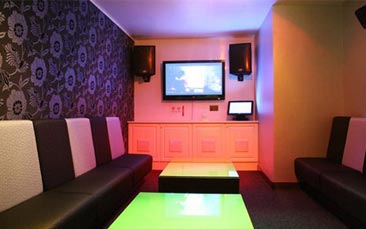 Who doesn't love a few glasses of something fizzy and a good sing-song? Surely it's what hen parties were invented for? OK, there is, of course, the issue of the bride-to-be, who after weeks of frantic wedding planning stresses and strains, is probably just about ready to throttle someone with several yards of wedding chair gauze.

However, thankfully she has her friends on hand for a weekend of non-stop bridal mayhem. A few drinks and a turn on the mic are just what the wedding planner ordered. Our Bristol karaoke hen nights will get everyone up and dancing in an activity that guarantees chart smashing fun!

At our leading karaoke bar in Bristol, you will be treated to your very own private room with state of the art facilities, luxury seating and air conditioning. The friendly team at this super trendy city-centre bar will greet you with a shot on arrival to calm any pre-show nerves. There is also a call button service for fast drinks service if you require additional liquid courage.

One of the best things about karaoke is that even if you aren't blessed with a diva's voice you can still take part, in fact, the louder the better (though maybe bring earplugs for those of a sensitive nature).

Bristol hen nights are an absolute blast and if the bride-to-be has a hidden pop diva inside her, this activity will be the perfect addition to her evening.