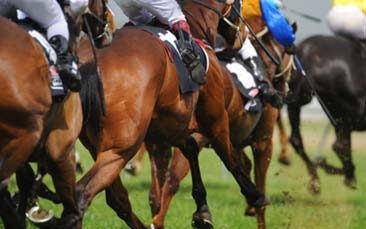 Place your bets, ladies! As a hen group activity horse racing is perfect - a real spectacle with adrenaline-pumping moments for those who love the thrill of a race (and a cheeky gamble - don't tell the Groom!) plus you get to dress up in all your race day finery.

This Bath course is conveniently located near to the city centre on Lansdown Hill, overlooking the Roman city, with flat racing as its speciality. You'll find a variety of facilities on site, including several bars, fast food outlets and a restaurant, so you won't need to travel far to sate your appetite or partake in a glass of bubbly if you've had a nice little winner.

You have a choice of two great packages to guarantee an exhilarating hen experience (with either a £2 or £5 betting slip for each hen). Whether you study the form guide religiously or simply take a wild punt on the horses with your favourite names, this horse racing activity will give you the chance to let your hair down with the girls and get up close to the action which is absolutely exhilarating when you're standing on the rails.

Don your best Ascot or Princess Beatrice-inspired hats, put on your stilettos and make sure to keep hold of your betting slips!
Upcoming 2020 Fixtures
Friday 17th April (Evening)
Friday 8th May
Friday 5th June (Evening)
Saturday 13th June (Ladies Day)
Friday 31st July (Evening)
Saturday 15th August (Evening)
Saturday 12th September
Sunday 13th September