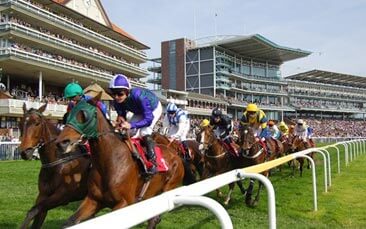 On your big weekend in the heart of the North West, there might be no activity as elegant as our York hen party horse racing day. York's premier race track is one of the finest in Europe, and it hosts some of the UK's most spectacular meetings. In fact, this track is so widely celebrated that it was recently crowned 'Flat Racecourse of the Year' and The Times newspaper declared it as Britain's top racecourse in a recent survey.

It's time to fetch your finest livery ladies, a day at the races is a truly sophisticated way to celebrate the bride-to-be's imminent transition into married life, and of course, this is fabulous fun. All the girls will be laughing their heads off when the mother of the bride screams her 100 to 1 outside runner across the finishing line, and there's sure to be a few giggles if the bridesmaids bet on a mighty-looking stallion that proves to be a bit of donkey in an actual race.

You'll enjoy your day of racing fun in luxurious surroundings, as with GoHen, you'll be admitted to York's premier enclosure. You and the girls will grace the award-winning Ebor Stand, enjoying the fantastic views of the course and the many bars (obviously). Tuck into some truly splendid lunch or afternoon tea in the Gimcrack Rooms, or why not treat yourselves to a glass of bubbly on the lively Champagne Terrace? Go on, you've earned it.

With all the excitement of the Parade Ring and the Winner's Enclosure close at hand, our horse racing day is the perfect activity for your classy York hen do. This really is fabulous fun, and if you bet intelligently, you could earn enough winnings to pay for an entire night out...or if you're unlucky, you might end up with a suspiciously empty purse!