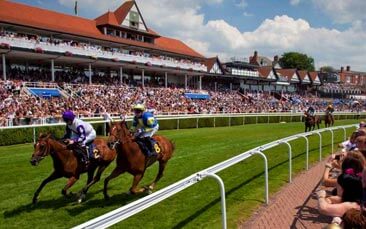 "They're under starter's order... And they're off!" A day at the races is an absolutely golden Chester hen party activity - not only can you get all dressed up for a day with the girls, but you will experience a winnings claiming, ticket shredding afternoon of fun, laughter and total adrenaline.

Even better news is that Chester Racecourse is one of the best in the country. With an ideal central location, it is also the oldest surviving course in England, as well as the smallest - only 1 mile/furlong long - making it great for spectators. You really do feel the earth move, standing on the rail as the horses thunder past.

Once you have picked up your tickets and made your way inside the ground, you have a range of food and drink options to choose from, as well as the chance to lay a cheeky bet should you choose (whether you have studied the form, or just like the name of one of the horses).

Your enclosure has unreserved standing space, so you are able to move around as you please. You can also head to the winner's circle to see your winning horse up-close and thank him for the new shoes his victory has just won you.