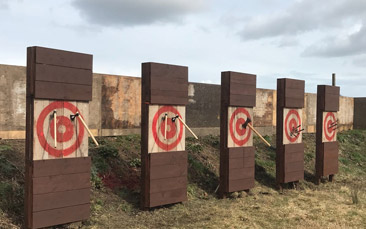 Forget a quaint afternoon sipping tea and eating cucumber sandwiches, it's time to crank up the competitiveness and turn up the mayhem as you and the girls do battle in the ultra-fun, amazingly ruthless Edinburgh Hen Party Knife and Axe Throwing. C'mon ladies, let's show the stags how it's done!
Your day will begin with registration and a safety briefing before you're let loose on the range with your deadly armoury. You and the girls will have a practice go to get used to it before you take each other on in an exhilarating, hilarious, all-action competition. Your group will get to use throwing knives and tomahawks as you channel your inner Arya Stark and try and splinter the targets which are painted on wooden boards at the other end of the range. You'll also get to try your hand with double-handed throwing axes if your instructor deems you are able to.* Remember to keep track of your scores so you can see who the hen sporting champion is!
As well as being hilariously fun and incredibly entertaining, it's also a great stress-busting activity for a frazzled bride-to-be. Having trouble finding the perfect dress? THWACK. Partner being a pain in the neck? Double THWACK! Mother-in-law interfering? Triple THWACK!
You could always double down on your epic hen activities. At GoHen we have a great range of awesome challenges for you and the girls to tackle:
C'mon ladies, quiet traditional hen dos are a thing of the past, get out there and try something a little bit unique, a little bit epic, a little bit axe and knife throwing-y!
*Please note: This will be at the discretion of your instructor. Due to their weight and size, these axes are not suitable for everyone.