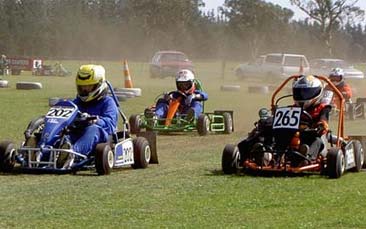 If you and the ladies have been go-karting so many times you feel as if you could beat the best of them to the finish line, in heels, then this is definitely for you. Hen party grass karting takes karts similar to the ones you'd race with on a traditional go-karts track, and puts them slap bang in the great outdoors!

If you thought ordinary karting was fun, grass karting has double the thrills and spills. These micro machines might look pretty innocent at first, but when you're in the driver's seat, absolutely tearing up the track you'll soon realise that your little engine is quite the track toy!

These four-wheeled speed demons are super fun to drive on this rougher terrain, you'll power through lumps and bumps in some exhilarating racing action that's sure to get all the girls giggling. This is seriously mad, bad and dangerous to know. You can either go flying over potholes or end up in a wild spin that's sure to make for some hilarious photo opportunities.

You'll compete in some fun, friendly competition against your fellow hens with heats, time trials and wheel to wheel racing mayhem. Grass karting is a unique, thrilling activity that's sure to make some fabulous memories for everyone involved.

So get ready to put the pedal to the metal, it's time to show those stags who the real Queens of Speed are!