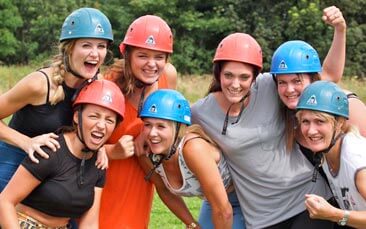 Any hens with a competitive edge (and we've yet to meet any hens who don't enjoy a bit of competition) will absolutely love the highland games. It's fun, competitive, often hilarious plus there's a chance of hunky men in kilts showing you how to hold their cabers correctly (see, the henuendos have start already).

Set in a lovely location you'll take the highroad and then be split into teams. Once you've got your game faces on and are ready to give your best "Braveheart" battle cry then the games will begin. The friendly highland marshals will be on hand throughout to explain the rules, coach you on each activity, keep score and acts as umpires for any difficult decisions and make sure there are no squabbles between teams trying to nab an extra cheeky point or two.

You'll face a range of different activities which may include;
Tossing the Caber
Welly Throwing
Tug of War
Haggis rolling
Farmers Dash
Highland Dancing
Playing the Bagpipe
and more madcap challenges to help you all build up a thirst for your big night out.
This really is non-stop competitive madness from beginning to end which all the girls will love. Once you've stopped grunting through the games and giggling at the outcomes the marshals will count up the scores and announce the winning team who will be presented with their prize while their fellow hens are left to weep into their porridge (or go off and drown their sorrows with a "wee dram").

Please note; we only use free range, fresh caught haggis and no haggis were harmed during the making of this activity.