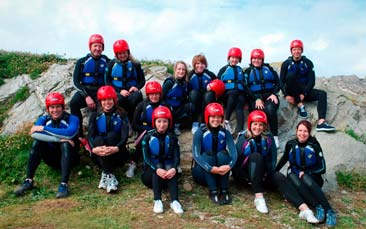 Our hen party coasteering is perhaps the ultimate adventure for hens looking for something totally different from the norm. You won't find a cupcake or cocktail in sight as you step out into the wilds and into a truly exhilarating activity that will leave the hens buzzing for days!

This really is the ultimate cliff-side adventure. It's an exciting fusion of climbing, swimming and jumping action that'll get everybody involved and moving in a unique and totally brilliant hen activity.

For those not in the know, coasteering is a simple matter of getting from A to B, the slight snag is that A and B are separated by rocky outcrops, white water jumps, climbing, swimming, cliff faces to scramble and other fantastic obstacles. An expert instructor will be on hand to show you the best route and exactly where to take the plunge... yep, you will need to make leaps into the water... gulp! This is extreme hen party action at its very best and certainly not for all hens. But for those intrepid few this is the ultimate in kick-ass, girl power action.

This is most definitely NOT your average hen party, but hey, if you wanted "average" you'd be baking cakes or sipping cocktails. This is an alternative hen adventure for you to release your inner Lara Croft and take your hen party to new heights on a day that the bride-to-be and her guests will remember for a very long time. Just don't forget your cameras to get some shots of all the hens together, kitted up in their safety gear before the fun begins.

Oh, and if you still want to sip cocktails it could be the perfect reward for the girls to celebrate their incredible day out with guest list nightclub entry like the VIP's you undoubtedly are.