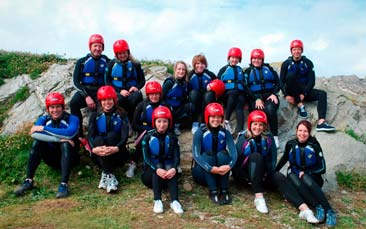 Afternoon Tea? Pah! That's for sleepy hens!

Actually, afternoon tea can be a lovely way to spend your hen party but some hens demand more adventure, crave for the great outdoors and something to really get the blood pumping. Well, our Cardiff hen party coasteering certainly ticks all those boxes and so much more besides, in a setting that was voted the second-best coastline in the world by the Lonely Planet Guide.

If you've ever fancied trying an extreme sport but didn't know quite where to start then this incredible coasteering experience is ideal to dip your toes in the water. In fact, you'll soon be throwing yourselves into deep water!

The session will begin with a quick safety briefing from your experienced instructor and guide. It's then onward and upward as you set out to navigate a fantastic and quite stunning set of coast. But this is no mere cliff top stroll. For our thrill-seeking hens that would be far too easy, in fact, thrills really don't get much bigger than this!

Scramble, climb and eventually rise to the top of some amazing coast but once you reach the summit it's a matter of what goes up must come down and the quickest way down is to jump. Yep, you'll be leaping from the top straight into the beautiful and inviting Atlantic waters below to get a closer look at the caves, coves and hidden treasures.
And to make sure you don't forget the day you'll receive photos and videos of your adventure.