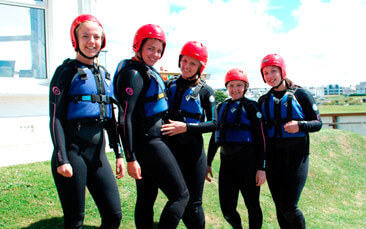 Are the stags boasting about their paintball exploits? Yeah, it hurts, big deal, try giving birth lads! Quad bikes? Pfft, please, try driving in heels! No, girl power demands even bigger adrenalin fuelled adventures that will put the boys to shame.

That's where hen party canyoning comes in, this is incredible action that will challenge the whole party, push the hens to their limits and reward everyone with an unbelievable day out, huge sense of achievement and a real feeling of teamwork as you work together to overcome the obstacles.

Canyoning involves getting from A to B, it's as simple as that. The only snag is that the route involves climbing rock faces, leaping into white water, scrambling down rocks and finding the best way over the tough terrain or coast line laid out by the instructors. If you've ever wanted to feel like tomb raider Lara Croft, this is a perfect chance.

But don't worry if that all sounds a bit too Bear Grylls for your liking, our instructors are always on hand to help tailor games and activities to fit the ability levels of adventurous hens brave enough to have a go at this awesome activity.

Your session will include superb canyoning events like rock scrambling, climbing and pool jumping as well as the chance to have a bit of a swim, which you might need to cool off after taking on this course.

Physically active and a whole lot of fun, you and the girls are guaranteed to have a fabulous session taught by expert instructors, ensuring an unforgettable hen afternoon for all. Most importantly, can you imagine how proud you and the girls will feel after beating this epic course?