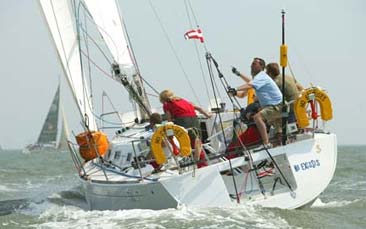 Rule the waves in this challenging but fun filled activity that's sure to get all the girls up and involved in the action as you learn to sail! Whether you're a beginner or a seasoned sea faring lass, we have a number of exciting packages to choose from. Put your sea legs to the ultimate test; from dinghy sailing to full-on private yacht charters, we can tailor a package to suit your group and budget!

Sailing really can be as action packed or as relaxed as you like, so if you'd rather chill out on deck and watch the world go by, then great! Or alternatively, take on the waves in an awesome battle between hen and sea. Either way, your sailing experience is sure to be a fantastic and truly memorable event.

With our friendly and experienced instructors, you'll learn all about the ancient art of sailing, getting to grips with a number of basic manoeuvres including jibing and tackling. You'll discover a whole new world of practical sailing terms and procedures and you'll receive a load of encouragement and guidance throughout.

Our sailing is a unique and spectacular way to get more out of your coastal destination and learn some fabulous new skills, even if you don't know your port from your starboard! And with some truly beautiful locations like Barcelona offering this fantastic activity, you're sure to see some stunning sights as well.