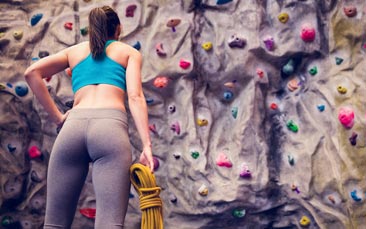 If you're looking for a truly alternative hen party adventure then climbing could be 'one small step for (wo)man and several giant leaps for hen-kind'.

With indoor and outdoor climbing walls and natural climbs available across the UK and Europe, we have some huge action-packed climbs to put huge ticks on all the hens' bucket lists, take some amazing hen team photos and create hen party memories for the nearly-wed and her guests that will last a lifetime.

Whether you're in Manchester or Madrid, we'll be able to arrange for you and the girls to get involved on your big weekend. Rock climbing is sure to test all the ladies' nerve, strength and resolve as you get strapped into your harness and safety gear on and with the guidance of expert instructors scale the heights. You and the girls will feel a huge sense of achievement as you look out at what is sure to be an amazing view at the summit of your fabulous climb.

As well as mastering your own climb and resolve, teamwork is a must as you help the other hens reach the summit by either encouraging passing tips or as "climbing buddies" assisting on safety ropes.

This is an exhilarating event that's sure to provide some superb fun for you and all the girls that'll have you giggling with excitement as you abseil backwards, possibly down a real mountain!

Our climbing activity will give you all a unique experience that will probably be unlike anything the girls have tried before. Plus you get that added sense of achievement, it's no wonder so many companies send their top staff on climbing courses to boost self-esteem, but step aside striped suit brigade... Here come the girls!

*Abseiling is not suitable at all sites, please check with our team for full details.