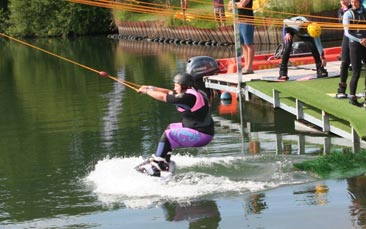 Calling all adventurous, adrenaline loving hens... If you're looking for a suitably kick ass hen party activity that really offers something a bit different from the norm but is superb fun then this water based sport activity could be exactly what you're looking for!

Promising non-stop hen giggles as the girls try to master this ultra-cool board sport but inevitably go under; wakeboarding is the perfect activity for a wet and wild hen do. Wakeboarding is adrenaline pumping fun that is also going to give the girls an amazing skill they can all take on holiday with them!

While regular wakeboarding involves being dragged at high speed behind a boat (meaning you're constantly waiting for the speedboat to circle round and pluck you out of the water), this fantastic site is perfect for wakeboarding newbies as it operates on a cable system, which runs overhead. The other bonus is unlike a conventional boat, the cable system doesn't create large waves making it easier to get started.

Once you're all kitted up in your rather fetching wetsuits each hen will be given 1-to-1 training from an experienced wakeboarder who will then control the cable system as you make your first run. They can adjust the take off and speed of your run to ensure perfect conditions so every hen gets the absolute most from her experience.

It's also a great workout, which means you can then reward yourselves with a round of cocktails later that evening.