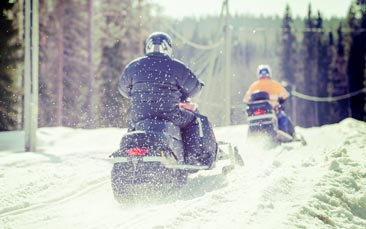 Head to one of the most amazing glaciers in Iceland for a heart pumping snowmobile ride with the girls that you'll simply never forget!

Iceland is a majestically beautiful country, to fully enjoy it we'd recommend getting out into the stunning and vast snow covered tundra. With snowmobiling you can really take in the country's natural magnificence with a little added va va voom. Snowmobiles are quick and easy to learn to drive, plus one of their most charming features is that even if you do fall off (which is incredibly hard to do) you'll mostly only be on snow.

With the help of our experienced snowmobiling instructors you'll master riding these fantastically fun snow scooters while visiting some of the must view sights in the area and racing across wide open snow fields in the Icelandic highlands! You'll pass the beautiful Langjokull Glacier and head into the deepest part of the snow, where you'll have striking views of the black sand beaches below! This is a breathtaking activity in one of the most visually striking regions on the planet which all the girls will remember forever!

Make sure you and the girls get together with the incredible backdrop and their gallant snow speeds for a fantastic hen party group selfie to remember the trek by. This is a once in a lifetime experience for most hens and the perfect way for the nearly-wed to share special memories with great friends ahead of her big day (stopping off to make a huge snowman is entirely optional but highly recommended).

The package includes transport to and from your accommodation.

Please note - Snowmobiling is only available as an added extra to the Golden Circle Tour.