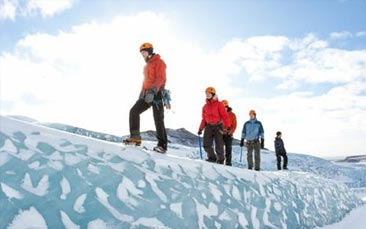 This fantastic hen party activity is a once-in-a-lifetime chance to explore the best glaciers, snowy plains and huge mountains that surround the city of Reykjavik. You'll set off on a hike to the top of Snaefellsjokull, one of the most picturesque mountains in Iceland which rises up 1450 meters from the middle of the Snaefellsnes peninsula and has a neighbouring active volcano!

During this fantastic hike you'll explore amazing ice formations, volcanic rocks and glaciers, and on clear days the whole Westfjord peninsula is visible and even the shores of Greenland can be glimpsed; these are some of the best views available in all of Iceland! That also means that this is the perfect place to take a fabulous hen party group selfie to remember your incredible trek by!

What better place to break the ice between any unfamiliar hens than atop gargantuan sheets of slowly shifting ice? You'll have to work together to conquer this obstacle and keep an eye out for any hens in need of a helping hand, which makes this a great way to bond and make some lifetime girlfriends!

There's no way the hens have done this hen party activity before so get your cleats on and step foot on one of these iconic natural landmarks. Lingering anxieties about the impending wedding like seating arrangements and the whole family being well behaved will be blown away while the nearly wed feels like she's on top of the world... it'll be the thrill of her life!