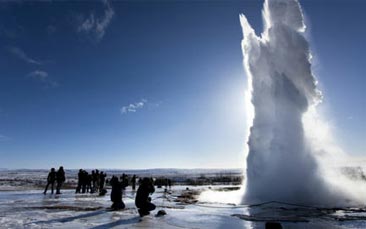 The Golden Circle includes some of Iceland's most striking sights, including the hot spring Strokkur (a huge 30 foot jet of water which goes off every 4-8 minutes). Your tour will also include the impressive Golden Galls waterfall, created by the river Hvita, which plunges into a crevice some 32 meters deep, and the natural wonders of Pingvellir National Park, where the American and Eurasian tectonic plates are pulling apart.
From here you'll follow the UNESCO cultural world heritage site all the way to the picturesque volcano Skjaldbreid, and then the huge glacier Langjokull. This is a fantastic opportunity to see the best sights in Iceland with the girls, while also getting active and clearing any hangovers from the night before! See majestic Iceland spread out in front of you and take a treasure-trove of pictures!
There won't be any worrying about cake decorations, seating arrangements or bad taste speeches for the nearly wed as she and her favourite girlfriends explore the natural wonders of this land of fire and ice! With volcanoes, glaciers, geothermal pools, exploding geysers, monolithic mountains and staggering waterfalls to witness on your Reykjavik Golden Circle tour, you'll see the very best of this incredible country in one activity!