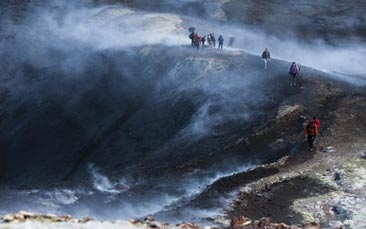 If you and the girls are looking to really tone up before the big day then this is the way to do it! This challenging but rewarding hike through the Icelandic outback will take you over the country's most famous mountain, Mount Hekla. It's the second most active volcano in the country and has blown a number of times over the years, most recently in 2000.

During the Middle Ages Europeans called the volcano the "Gateway to Hell". It may be a challenge walking up the 1500 meter high mountain but once you're at the top it will all have been worth it.

You'll all feel great and the whole of beautiful Reykjavik will be spread out below you! This is the perfect place for an incredible, Instagram worthy hen party group selfie of all the girls feeling on top of the world! With this once in a lifetime activity, the girls will certainly be able to say they've done something unique and different for the hen do instead of the usual pampering and crafting sessions.

All of the bride-to-be's pre-wedding anxieties will be blown away when she realises what she's just managed to do, especially when she realises she's on the edge of an active volcano! No more thinking about bad taste speeches, seating arrangements or dress fittings, this is the perfect way to get back to you!