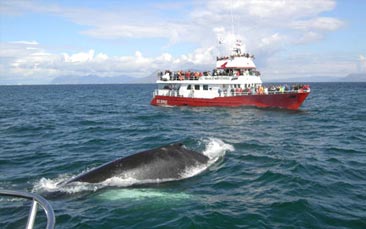 The nature-loving hens will relish the chance to get up close and personal with these gentle oceanic giants and there are few better places to get a glimpse of a whale than on the chilling waters around Reykjavik.
Turn up at the harbour and meet your expert whale watching guide and captain before heading out to sea! The hens will need to keep their eyes peeled if they want to get the most out of their whale watching session, but the guide will do their best to point everything out to the girls.
It's not like there is just one species you're looking out for either: the waters around Reykjavik are teeming with all sorts of sea life. You'll have the opportunity to spot Minke Whales, Humpback Whales, dolphins, porpoises and rarer animals like Fin Whales, Sei Whales and the stunning but elusive Killer Whales!
Break the ice between any unfamiliar hens aboard this fantastic seafaring hen party as you all feverishly search the waters for stunning sea creatures. Get together with the girls on deck for a memorable hen party group selfie and hope you get photobombed by a massive whale!
The nearly wed will be blown away if you're lucky enough to spot a rarer animal ensuring - for a while at least - she's not worrying about seating arrangements or cake tastings and can enjoy her hen do!