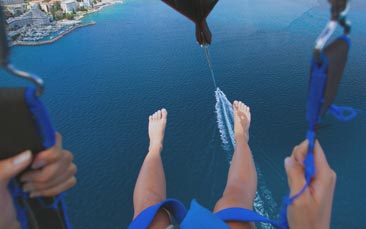 You and the girls are in for a truly heart-pumping adventure with this fantastic water sport activity! Parasailing is a real group pleaser and will see all of you and the girls individually harnessed up with specialist equipment and then towed behind a speedboat attached to a parachute - you'll be amazed at the great speeds and heights you can all reach!

The thrills are incredible, and with parasailing available in some of our very finest coastal locations, you'll also get to benefit from spectacular views on your trip up to the skies. Everyone's given banana boating a try and parasailing really helps to go that extra mile for you and your friends - it's totally fun, different and way better than a plain old splash about in the sea. Really impress the girls and see how high you can all fly in your own small parasailing crafts.

When the weather's hot, water sports are the perfect way to cool off and your friends will love riding high in the sky, appreciating the stunning views below and around. A real group-pleaser, parasailing is unusual enough to make the hen weekend extra special and so much fun that the girls will be talking about it for years to come! So what are you waiting for? It's time to strap yourselves in and prepare for the ride of a lifetime!