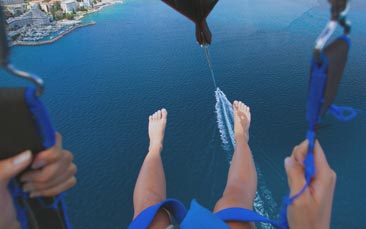 Get a totally different view of Ibiza while soaring through the sky during an unforgettable session of parasailing. Board a super-fast powerboat with the hens and zoom out of the bay at spine-tingling speeds before it's up, up and away, waving goodbye to the noise of the boat's engine and the giggling of your best friends. You'll enter a world of pure bliss that'll stay with you forever.

But you don't have to fly alone, you can hook up with other hens with up to four people in the air on one chute.

Our Ibiza hen party parasailing lets you enjoy a panoramic vista of Ibiza with totally unique views of the island that you'll only get from this activity. Bask in the sapphire blue glow of Mediterranean waters below allowing the bride-to-be feel any wedding planning worries float away as you fly 450 metres above the water away from the partying and bustle of Ibiza's sunset strip.

This really isn't your average day out and will create hen party memories that all the girls will have forever. If any of the hens have a GoPro then hook the bride-to-be up and record her flight and the incredible views over this jewel of the Mediterranean.

With 15 minutes in the air, you'll return safely to the boat feeling refreshed, rejuvenated and ready to hit the town hard. If you want to experience the flight in the company of your best hen friends, you can go up in groups of 5; this is the perfect chance for a once in a lifetime group hen selfie.