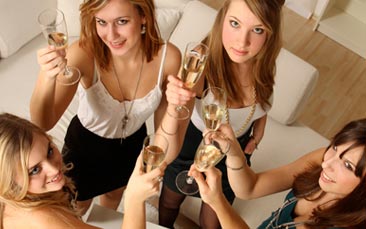 Kim and Kanye. Netflix and duvets. Hen parties and prosecco. Doesn't it feel like some things were just made for each other? During this fun, interactive tasting session you and the girls will become intimately reacquainted with prosecco as our expert sommelier arrives at your accommodation and introduces you to 6 different fizzes while letting you in on some surprising facts about your favourite celebratory tipple.
You'll learn the proper way to taste prosecco (spoiler alert: it isn't 'as quickly as possible because our taxis are coming') and even blindly sample some of the bottles to see if you can tell the difference between varieties. You'll also find out where you can buy the wines if you find a new favourite.
Prosecco facts
Prosecco dates as far back as Ancient Rome
Approx. 150 million bottles of Italian prosecco are produced each year
Prosecco is said to improve heart circulation
It's less likely to leave you with a hangover
Prosecco has fewer calories than wine
Once you've tasted each of the prosecco wines, you'll take part in a fun quiz to test your knowledge, with a prize given to the winner.
Although it must be said that at this point you'll probably need all your ever-so-slightly tipsy brainpower to remember the differences between prosecco making regions and prove once and for all that you're a true sommelier in the making…
*Sniffs glass* "I'm getting… Squiffy!"