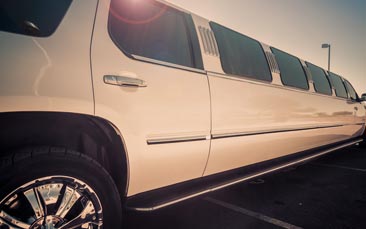 Limousines are no longer exclusive to the rich and famous, with GoHen, you too can travel in style on your big weekend. Our limousines will see a professional chauffeur pick you up from wherever you fancy and take you wherever you need to go... celebrity style!

So sit back, relax and sip on some gorgeous chilled champagne and wave as you pass all the envious onlookers gawking at your luxurious ride. Most of our fleet benefits from superb on-board facilities, including luxury leather seating, mood lighting and inbuilt music and DVD systems. This really is the perfect way to carry on the party, even when you're on the move!

All of our vehicles are kept meticulously clean, they're well maintained and driven by professional chauffeurs in full uniform (we can't promise a hunky driver, but you might get lucky). A limo ride adds a perfect surprise element to any hen weekend, and we can tailor your trip to suit any requirements.

If all of that wasn't enough for you, you'll even be able to choose from a traditional stretch limo in white, black or pink or a super stretched Hummer 4x4. If the bride-to-be is a fan of the unusual, why not try our converted fire engine limo?

Whatever you decide on, this is definitely one of the most glamorous ways to travel. The bride-to-be is sure to feel like an A-list celebrity as she steps out of this luxury car. So don't settle for cramped taxis on your big weekend when you could be sipping champagne at the back of a long white limousine!