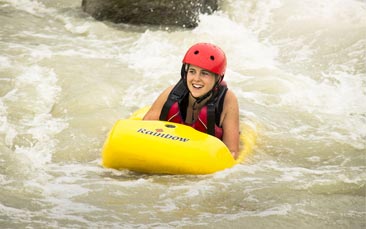 So for those that haven't come across this completely crazy sport before it is essentially just like white water rafting, except there's no raft... or paddles. Just some crazy hens bobbing down river having the time of their lives!
Hen party hydrospeeding is one of our newest and most bonkers outdoor action adventures. Instead of the safety of a sturdy raft, you'll lay on hydro boards, a cross between a swimming float and a surfboard. The boards have handles allowing you to steer and make sure you're holding on tight.
For safety each of the hens will have a helmet, life vest and wetsuit and there will be instructors with you throughout the session to make sure no one gets into difficulty. Laying face down on the boards you'll then ride the river head on, using the handles and your feet to steer your way down stream at high speeds.
There is quite simply no other adventure quite like our stag party hydrospeeding, it'll leave the girls buzzing and is most definitely a big tick on the bucket list. Plus there are very few places in the world where you can try hydrospeeding.
Bonkers but utterly brilliant this is really ideal for hens that are screaming for adventure and want to try something totally new and exhilarating. It's white, knuckle, adrenaline-pumping fun that really will have those pesky stags green with envy and a day none of the hen's will forget in a hurry!