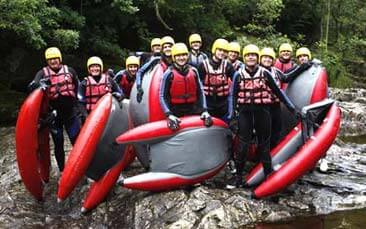 Are there girls in your group who are far too happy to sit back and paint their nails with Netflix flickering in the background rather than taking on some truly thrilling outward bound action? Then this could be perfect for your party, as these unusual rafts might closely resemble a cosy armchair, but they've got all the extreme spirit of whitewater rafting!

Riverbugs will give you and the girls the ride of your life over some fast running rapids. You're sure to get wet here, so make sure you've removed your make up, otherwise, you could end up with the undesirable 'wet panda' look. Although frankly, you and the girls won't care about makeup once you're flying down a fabulous river course.

These funky single-seated whitewater rafts look a bit like a blow-up armchair but don't be fooled into thinking they're relaxing. They might look innocent enough, but as soon as these fantastic crafts hit the water you're in for a fast and furious experience, they're also incredibly tough (tougher than Kat Slater's nail varnish!). Coming all the way from New Zealand, these unique rafts are a totally new concept in the UK and one of the coolest new watersports out there. That means it's something totally different that the girls are unlikely to have done before, perfect to fill up those Instagram feeds.

Riverbugs will see you and the girls hit the water for some tremendous adventuring fun. You might find yourselves flailing around like fish at first, but once you've had some top tips from the experienced instructors, you'll soon be taking on the rapids like a pro. The bride-to-be is sure to love this!
So come on in, the water's lovely and pretty darn choppy to boot!