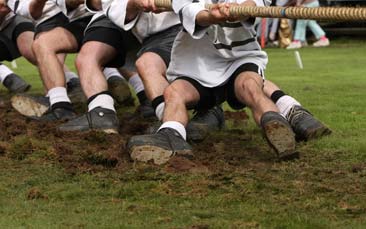 There's arguably nothing more fun to do on your hen afternoon than tossing wellies and battling the girls in a tug of war! Bring on the Highland Games activity, our homage to this world-famous Scottish sporting tradition, where you and the girls can get involved in a number of fantastic challenges including tossing the caber, hurling the wellies and the Farmer Dash! There's a great range of fun, physical challenges on offer which are all based around the legendary games. You and the girls will have the chance to indulge in some friendly hen competition whilst embarking on this hilarious, muddy adventure!

The nearly wed won't be worrying about the wedding invites or the seating arrangements when she's knee-deep in mud and having their time of her life with her favourite hen girlfriends!

Whether you stick to tradition and get involved in Edinburgh or Glasgow, or work on your Tyre Flipping in coastal Blackpool, you're guaranteed a great afternoon that all the girls will love, plus, our team of skilled instructors will be there to talk you through it from start to finish and give a brief background to every element of the day. So, what are you waiting for? Let the games begin...

We'd suggest ending the session by heading to a bar for a wee dram of whisky to wash away any aches and calm down the competitive hens!