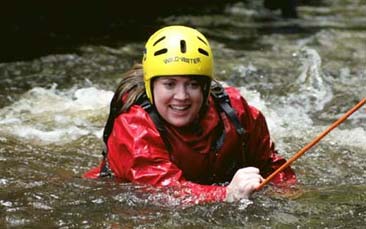 Are you and the girls looking for some awesome outdoors action to get involved in on your big weekend away? Our hen party gorge walking is perfect for you; it's mad, bad adventuring fun that's totally dangerous to know!

We've all been on a climbing wall, we've definitely gone swimming. But this gorge walking experience takes both of those activities and adds a fabulous outdoors twist!

You and the ladies will discover your inner Lara Croft as you take on a stunning gorge walk that'll need you to swim, abseil, rock scramble and cliff jump!

We've handpicked a variety of only the very best courses for your hen party gorge walking adventure, so whether you're spending your evenings in Cardiff or Manchester, you know some adrenaline-pumping fun is never far away!

This truly is an amazing activity, you're all sure to feel challenged no matter how confident you are and when you've finished you'll definitely feel super proud of what you've achieved. This is a real group pleaser that'll see you get back to nature in some of the UK's most picturesque mountain rivers and gorges.

The bride-to-be is sure to be smiling as she jumps for joy into a pool of crystal clear mountain water. Hen party gorge walking is the perfect way to rejuvenate before the big night ahead.