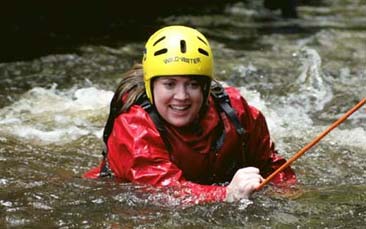 Girls, if you think walking home in high heels after a night on the tiles is tricky, wait until you try this. Cardiff gorge walking will take you and the ladies on an outdoors adventure unlike anything you've tried before.

You'll discover your inner Lara Croft as you take on an epic gorge walking course in the Brecon Beacons. This route is so good, even the SAS use it. Although we doubt the SAS will have anything that can match the SASS that a group of adventuring hens will bring to these stunning Welsh surroundings!

This really is a great group activity, as all the girls will be cheering each other on as they scramble over rocks, explore through caves and waterfalls and take a splash into some freezing plunge pools! This is a totally wet and wild experience that's sure to get the bride-to-be laughing as she goes on an awesome outdoors experience with her favourite girls.

Our instructors will always be on hand to make sure the fun never stops. They'll keep encouraging you to take on the next challenge and you're sure to feel super proud of yourselves when you look back on the extreme obstacles you've totally overcome!

It's a fantastic way to get out of the city and explore South Wales most beautiful and unique stretches of countryside.