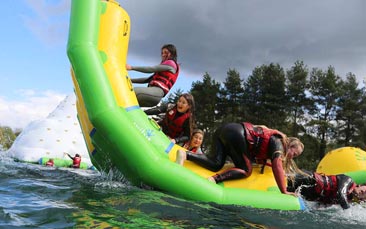 Sometimes it's good to leave the adult world behind and just let your inner child take the controls so you can just laugh! That's exactly what you'll get on this mad-capped inflatable assault course.
Imagine if your hen party were to suddenly to find themselves standing on a larger and slightly more manic version of the inflatables from the TV show Total Wipeout. Now imagine there is no Richard Hammond and all the competitors are allowed on the course at the same time... Now take away the polite competitors and with a group of hilarious hens letting rip like they haven't done since their first-ever school sports day (back when school sports were actually fun!).
This really is non-stop laughter that adventurous hens will totally love. Marshals and lifeguards are on hand to make sure no one gets too carried away and everyone remains safe at all times but you can be pretty sure that all the girls will end up making a splash at one time or another.
The course is littered with obstacles which you can take on one after the other or simply dwell on one challenge while giggling as each hen steps up to attempt, fail, repeat.
Obstacles include:
Balance beams
Hurdles
Rollers
Slides
Trampolines
Monkey bars
Flippers
Rockers
Inclined climbing wall
Giant iceberg
And more...
You can create your mini hen challenges and races for extra fun and there are simply no ways to explain just how wonderfully crazy this course is in a way that you really can regress to childhood in the best possible way.
All participants must wear life vests for added buoyancy, the fantastic site has changing rooms and a great cafe to grab some refreshment after all the action.