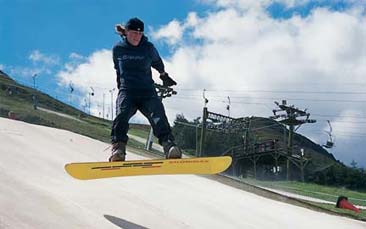 If your girl-gang want to hit the slopes on your big weekend, but you've found yourself in Bristol or Norwich (both locations geographically a bit far out from the French Alps!) you might think you're stuffed. But don't fear, GoHen will get your hen party dry skiing on a site near you!

We've got a fair few locations where you can get out on the piste on your big weekend without needing it to miraculously snow in time for your hen do. It's a good thing too because dry skiing really is awesome fun.

Once you've got all your kit together you'll hit the slopes right away. You can take on the smaller slopes at first if you're completely new to flying down hills on these high-quality skis. Or, if you're feeling really confident why not start on the steeper slopes and go from there?

There's something for everyone on our courses and with experienced instructors at hand at all times even skiing novices will soon be slaloming like absolute pros. This is bound to thrill all the girls as they challenge themselves to get better and better at this great winter sport. They'll be really proud of themselves after they look at how far they've come too, feeling a massive sense of achievement.

Rightly so as well, the bride-to-be will love this as she sees her closest friends and family all breaking the ice and having an avalanche of fun to boot. Get your hen party dry skiing, you won't regret it. It's fast, furious fun and after all, anything the stags can do, the hens can do better...