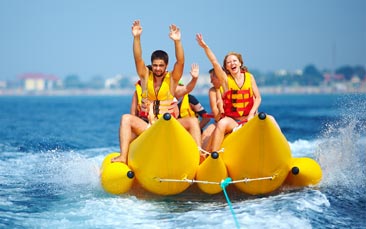 Are you and the girls fans of the unusual? Do you love the idea of a unique and totally fun experience that's as thrilling as it is completely and utterly hilarious? Then here at GoHen, we have the perfect activity for you, our hen party banana boat activity is mad, unexpected fun that's sure to make some memorable moments on your big weekend.

These banana boats are pretty self-explanatory really. They're huge, buoyant boats in the shape of and decorated as a banana! You and the ladies will don an extremely flattering buoyant life jacket before climbing on board what must be one of the most unique boats to ever take to the water!

Of course, this banana boat isn't going to power itself, but luckily for you and the hens, there's a whopping great speedboat to pull you around. The challenge isn't so much moving this hilarious boat as it is staying aboard as you and the girls will be hit by the sea spray at high speeds and we're sure that the pesky speedboat driver will try to have a bit of cheeky fun with you and make a few turns that are sure to test your balance, so hold on tight!

Our hen party banana boat activity is the perfect way to get some quirky, unusual fun in your hen party. It's bound to get all the girls giggling as well as thrilling everyone on a white-knuckle ride that you'll surely never forget. So be sure to bring a waterproof camera, because there's bound to be some unmissable photo opportunities on this one!