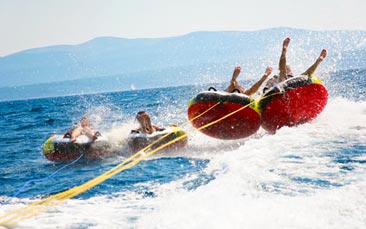 Are you and the girls looking for the wettest and wildest fun you can have on your big weekend? Ride the waves solo in a huge, inflatable doughnut pulled behind a super-fast speed boat! This really is a fabulous group pleasing activity that's sure to get the girls giggling, if they can stop screaming long enough to laugh!

Ringos might sound unusual, but when you're being dragged along the water at high speeds, you'll forget all about the quirky name as you hold on for dear life in an adrenaline-pumping activity that's like nothing the girls will have tried before. You're guaranteed a fantastic time here, as you try to learn the best ways to stay afloat and avoid taking a plunge into the water.

Take your seat in an inflatable ringo, hold onto the handles and then do your best not to fall off! You'll head out in 2's or 3's, so you're guaranteed some big group laughs as you and a couple of your favourite girls are thrown around the water by your speedboat pilot who'll drive his boat like the bride-to-be drives her car when she's wearing heels.

Ringos are wonderfully silly, and unlike other watersports like white water rafting or kayaking it involves next to no skill and you'll all be left smiling for weeks to come! Whether you and the ladies are heading to Newcastle or Ibiza, we've found the very best coast-side venues and crafts to guarantee that your entire group will love this experience!

So get ready to climb into your hilarious rubber ring for a white knuckle ride that you'll never forget, just remember to hold on tight girls, it's going to be a bumpy ride!