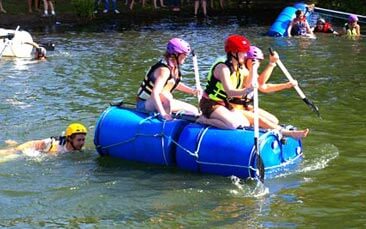 Granted, raft building may not be the first thing that comes into your head when planning a hen weekend... but it is certainly a brilliant addition to an active weekend where laughter is a must. It is a great way to get all the girls working together, especially if you don't all know each other so need a bit of an icebreaker to kick things off.

Once you have arrived, kitted up and listened to the important safety briefing, you and the girls will be split into teams and each given a raft building kit with all necessary materials provided. It is then up the girls to work together as a team to build a vessel that is strong enough to transport you across the water. If your assembling skills aren't top-notch then we suggest that you prepare to get wet! But it isn't all a matter of building and physics, lateral thinkers and problem solvers are key to this challenge.

Don't worry if you aren't the pioneering type - there is help and tuition on hand from instructors to push you in roughly the right direction if you get stuck. It's even OK if you struggle to make the raft serviceable, as there is little else funnier than watching some unfortunate members of your group slowly dip into the water (don't panic, it isn't too deep). A fantastic talking point for any hen weekend and brilliant for lateral thinkers and problem solvers.