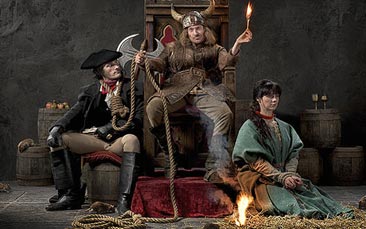 If you're are looking for a totally hilarious and original hen do idea then our York Dungeon hen party tour is an absolute riot!
We'll put the blushing bride and all the hens centre stage as you tour 2,000 years of horrible history. Live actors play the parts of a number of freaky characters who bring the past to life with plenty of ad-libs and interaction which will see the nearly-wed stand trial for her crimes and misdemeanours. All in the best possible taste of course.
The Judge - Mad as a hatter and slightly delirious he'll question the bride about her crimes before setting judgement.
The Executioner - Transporting you back to 1405 he's looking for his next customer... would he pick on you all again? Why yes. We do believe he would!
Dick Turpin - The dashing highwayman with an eye for the ladies.
The Golden Fleece - Stop off at this ancient pub that has a wonderful ambience.... if you don't mind the occasional murder.
The Witch Picker - The Witch Picker is out to discover the truth, are you hiding a witch in your group? And what happens to those found guilty of witchcraft?
And more...
Evening Tours*
You can turn your tour into a complete evening of fabulously fun entertainment. Minimum numbers will apply for the completely exclusive tours where you will be the centre of attention from all the gruesome characters;
Evening hen party York Dungeon tour with a welcome drink
2 or 3-course meal at a fantastic nearby restaurant
Guestlist nightclub entry to one of York's hottest clubs
Drinks package - bottle of Smirnoff Vodka, 2 x bottles of prosecco
Premium table hostess service
This really is an uproariously funny tour where the actors are on cue to ensure your party are shown the true horrors of the dungeons. A wonderfully unique way to celebrate the big weekend with a fabulous meal and a stunning nightclub package. Eat, drink and be merry with just a little bit of torture thrown in for good measure!