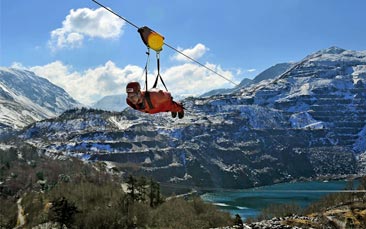 When we promise the biggest, baddest experiences out there - we certainly mean it. For hens who want an adrenaline-fuelled afternoon of thrill-seeking, this site in North Wales not only offers the longest zip wire in Europe at 1 mile in length, but it is actually the fastest in the world, reaching speeds of up to 100mph without a motor in sight. Take that Mr Clarkson!

With an initial zip wire acting as a thrilling warm-up, you will be taken into the heart of a quarry - once the largest in the world. After a fascinating tour inside, you will be taken up to the headline act - the fastest zip wire in the world, reaching up to 100mph (even writing that gives us goosebumps). The expert instructors will then get you kitted up for a downhill ride you'll be talking about all weekend.

Our hen party ultimate zip wire experience is adrenaline-pumping fun that the girls won't be forgetting any time soon. The girls might be more than a little nervous at the top of the line, but after they've had that initial taste of speed, they're sure to be dying to go back for more!

If you've got a bride-to-be who loves unique and thrilling activities you simply have to treat her to this.