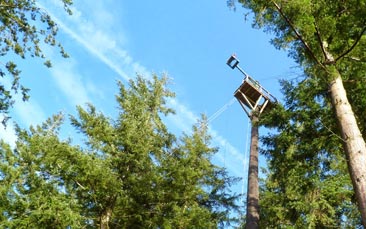 There are adrenaline-pumping hen activities, and then there's this! A 100ft fall from the dizzying heights of a treetop tower using the latest adventure technology. This definitely isn't for the faint of heart, but if you're brave enough to take this leap of faith, there are some serious thrills to be had.

On our hen party parachute simulator, you'll be able to experience the sensations of parachuting without jumping out of a plane. Instead, you'll be plummeting from the top of a tree tower, and when you're only 100ft from the ground, this simulator might seem as scary as the real thing!

The sense of achievement you'll all feel when you've conquered the simulator will be immense, and you never know, after you've gotten over the fear factor you might be rearing to go again! The powerfan technology that this parachute simulator uses means that your experience is smooth, safe and incredibly fast.

On your hen party parachute simulator experience, you might just discover your inner Lara Croft, and any adventuring bride-to-be is sure to love this unique, exciting outward bounds activity. Besides, there are some seriously stunning mountain views to be seen from the top of the tower...although you won't be able to enjoy them for too long!