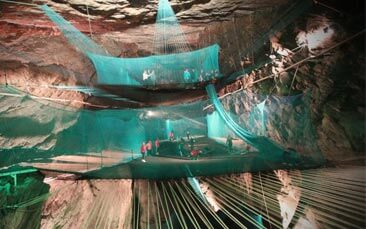 Be honest girls, have you ever looked at a trampoline in someone's back garden without thinking 'I want a go on that'? Bouncing up and down on a trampoline is simple but fabulous fun, and it's a one-way ticket to happiness once you get into a calm, relaxing rhythm. On our trampoline cave adventure, however, you might find it rather difficult to chill out... as you'll be bouncing a whopping 180ft from the ground!

After boarding an old mining train that will take you to the heart of this spectacular subterranean playground, you'll reach the beautifully lit caves. The incredible series of trampolines are suspended in a gigantic cave approximately twice the size of St Paul's Cathedral. As you're bouncing, twisting, and if you're really confident, flipping through the air, the view beneath you is a mind-melting 180ft drop.

This is certainly not for the faint of heart, you'll need to discover your inner Lara Croft if you're going to master this amazing adventure as you take on the three giant trampolines of varying heights, each linked by a 60ft long slide and walkways.

Our trampoline cave adventure really is something special. If you're looking for some high octane thrills for the bride-to-be's last weekend of freedom, this is definitely going to fit the bill. It's a truly unique activity, and as this is the world's largest underground trampoline, you know you'll be getting a one of a kind experience.


Suggested add on...
Why not also try the Ultimate Zip Wire Experience, which is located nearby? It really fits the bill if you are looking for a thrill-seeking activity - it is the fastest in the world, reaching up to 100mph. Please speak to your account manager for further details.