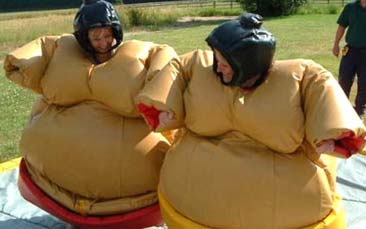 You might have always considered having a 'beer belly' as being a bad thing, but in sumo wrestling, the protruding girth of your massive inflatable suit could be the difference between being just another failed sumo or a champion of the arena.

It's not only a test of strength though, you'll need some serious skill to be crowned the winner. But, with some top tips from our friendly instructors, even the most conflict-shy of hens can transfom into full-blown sumo warriors!

This fabulous, popular hen activity is a real winner and it's sure to leave massive grins on all your faces. Try a 'yorikiri', learn to 'splatter' your opponent and really get into the sumo spirit. Hen party sumo wrestling is the perfect way to have some giggles with the girls, and it's a great ice breaker. Push, pull, trip or throw your opponents out of the coloured circle on the mat to become hen party sumo champion.

This is a fabulous way to get out of the city for a few hours on your big weekend to catch some fresh air and some big laughs. All the girls are going to love this, as they get stuck into the hen activity they never knew they wanted. This is seriously unique and you're sure to make some hilarious memories as you battle for sumo wrestling supremacy!