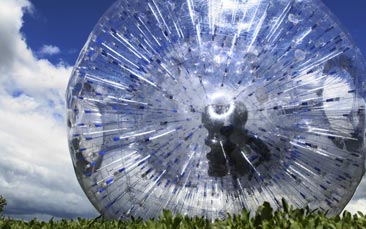 What could be more hilarious than rolling the blushing bride-to-be down a steep hill at speeds of 30-40km per hour?! Very few activities on your big weekend can compare to the extreme laughter-factor of hen party sphereing, which is an extreme sport similar to zorbing.

Unlike most extreme sports, sphereing doesn't really require much skill. All you and the girls have to do is get strapped into a huge, see-through ball filled with air pockets, and then you'll be setting off down the hill at high speeds of up to 30mph!

At the bottom, you'll slow down and roll to a finish, giving you a small period of time in which you'll need to compose yourself before getting ready to make it back up the hill for another go. With runs of up to half a mile in length, sphereing certainly isn't one for the faint of heart, but if you're dealing with a totally adventurous bunch of hens, they're sure to love this. Although if any of the girls do have a few last-minute doubts at the top of the run, they're only ever a friendly push away from conquering their fears!

Sphereing is truly the perfect way to set the pace for any fun-packed weekend away. The girls definitely won't have tried this extreme and unique activity before, and the bride-to-be is sure to feel a huge sense of achievement after she's mastered this hilarious thrill ride. Maybe go for lunch after the activity though...