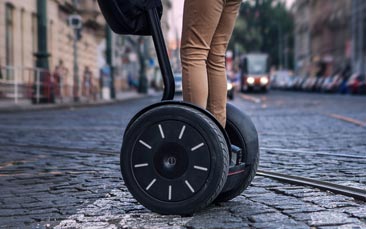 Hen parties are pretty fast-paced, squeezing in everything you want to do can be tricky and no one wants to miss out on seeing the sights of the amazing European city you've travelled so far to visit. But how do you manage to get around all the sights and not lose time having laughs?

Meet the Segway!

For those not in the know, a Segway is an all-terrain personal transport vehicle that you ride while standing upright. Completely unique and a little bit bonkers they are brilliant fun to drive and are incredibly easy to get the hang of; lean left to go left, lean right to go right, lean forward to go forwards/faster, lean back to slow/stop. That's it. It really is incredibly simple but utterly brilliant. When you're not taking in the sights and snapping some amazing hen party memories, you'll be laughing and whizzing along the (not very) mean streets of one of our amazing European cities.

The tour will start with your guide showing you all how to get onto your vehicles and get you moving, once everyone has got the hang of it you'll roll out like "Hen's Angels" taking in the sights and having a blast. The local guide will show you the very best the city has to offer as well as giving you some insider local knowledge on the best bars, clubs, restaurants and the all-important shops.

A hen party Segway tour isn't just a fabulous way to see the sights, they're brilliant fun to drive and will allow you to capture some amazing photos and memories of the bride-to-be's big weekend.