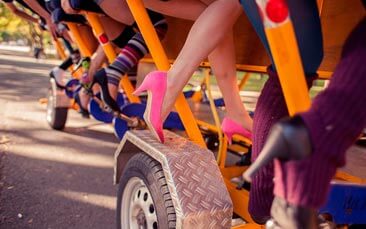 Walking? That's so last year! No, we've seen all the Olympics and now know that exercise is the key to happiness… Now just imagine that you could drink and exercise at the same time. Yep, true happiness (and an unforgettable hen weekend) can be reached with a ride on the wine bike! So saddle up with your bride-to-be and the rest of the hens to laugh, learn and enjoy some great wine.
This incredible (and thoroughly wacky) invention is the perfect addition to any bride's special weekend, letting you and the rest of the hens take to the streets of beautiful Riga while also enjoying a few glasses of wine in your own private mobile wine bar (for hydration purposes of course). Is it even a hen party without a wine bike?

You'll get to do some exercise, feel fresh air and sunshine on your face, take in the sights and history of the city, and all without leaving the comfort of your bar stool/saddle. Just make sure you remember to keep pedalling or forever be ridiculed on social media. As you and the girls cycle through the beautiful city of Riga you'll have three 250ml glasses of wine (red or white it's your choice) which will no doubt fuel you're pedalling and keep everyone suitably giggly for the duration of the ride.
You'll be accompanied on your tipsy travels by your own friendly English-speaking guide/navigator who will steer you through the city and keep the wine bike on the straight and narrow. Just imagine the fun you'll have taking in all the sights that the streets of Riga have to offer, wine in hand and getting in an hour of exercise to boot. It's the perfect way to give the bride-to-be the memorable send-off into married life that she deserves. If only every commute were as much fun as this one.
We suggest fancy dress for all on Riga's wine-ding roads but definitely make sure the bride-to-be has something suitably hilarious to wear to make sure she stands out from the traffic.