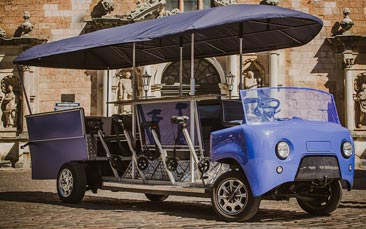 We know that Hen parties can sometimes be a challenge. You've just got your beach body ready to flaunt but now there's a whole weekend of fun, frivolities and carbs coming your way. If that sounds like you, climbing onto a Beer Bicycle might be the best decision you ever make. Now you can put some miles on the Fitbit, take a tour of the streets of Riga AND have a fantastically tipsy time!
This completely crazy and unique experience will see you and your ladies take to the streets of Riga on your very own mobile bar. Every hen party should have one. Pilsner-fuelled pedal-power is the only way to go. You'll get to do some exercise, feel fresh air on your face, take in the sights and history, and all without leaving the comfort of your bar stool. What's more you and your crew will have control of the pumps, so you can pour as you pedal and toast the bride-to-be as you go. Just make sure you remember to keep pedalling or you will never live it down. As you and the girls cycle through the beautiful city of Riga you'll have 1.5 litres of beer per person which will fuel your pedalling and the laughs that will no doubt also be in full flow.
Your barman/guide/driver will stay stone cold sober so you can focus on having fun, this is the only way you should ever drink and drive. This is definitely the future of urban transport and it's beer-takingly beautiful. Just imagine the fun you'll have whipping through the streets of Riga, drink in hand, taking in the sights and getting in an hour of exercise at the same time. It's the perfect way to give the bride-to-be the memorable send off into married life that she deserves. What's not to like? If only all your commutes were as much fun as this one.
For your Riga ride we suggest fancy dress for all but definitely make sure the bride-to-be has something suitably hilarious to wear to make sure she stands out from the traffic.