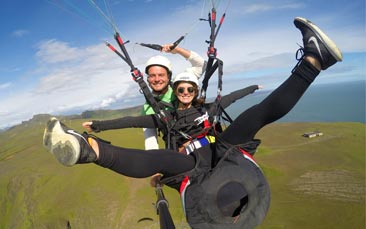 Iceland has been the home of many an unforgettable hen do, and yours could be next! There are a fair few activities here that are simply unlike anything else you can try in the world, and Reykjavik hen party tandem paragliding is certainly chief among them. This is a once in a lifetime chance to see Iceland's beautiful landscape from a birds-eye view in an adrenaline-pumping thrill ride that you and the girls won't ever forget.

On your paragliding experience, you'll defy gravity and soar to hen party success with minimal effort, as you'll be flying in tandem with an experienced pilot who'll take you on the aerial tour of a lifetime.

Paragliding is one of the most serene free-flying experiences known to man (or hens). It might seem terrifying as you step off the edge of the slope, but once you're floating in the air with only the sound of the whipping winds around you, it's an extremely peaceful ride back to earth. On a clear day, you can see for miles around and even as far as the sea.

These gliders are also surprisingly comfortable to sit on, and if you're a little nervous about the idea of flying beneath a single inflated wing, rest assured that even one of the thirty cables supporting you would be enough to take your entire body weight. This really is safe, and it also makes for fabulous fun.

On your Reykjavik hen party, tandem paragliding could prove to be the highlight of your weekend. Treat the bride-to-be to an unforgettable ride over some truly stunning scenery and create shared memories that'll last a lifetime as you soar through tranquil Icelandic skies.

Please note: Paragliding is weather dependent. If the flights cannot take place a full refund will be offered.