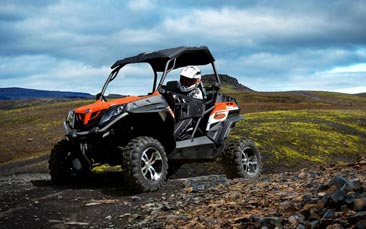 Perhaps not geographically, but certainly spiritually, our Reykjavik hen party buggy tour is about a million miles away from dull commuter driving in the UK. In fact we'd go as far as to say that this is the greatest driving experience ever!
Not only are the four wheel drive, automatic buggies really fun to drive, but the scenery, and she scale of the views are quite simply breath-taking. You'll explore landscape that you'd be forgiven for thinking has been transported in from another planet. Vast, verging on never ending the views are unlike anything you'll have encountered back in the UK. It's definitely cameras at the ready and the perfect location for an incredibly memorable Reykjavik hen weekend group photo.
The powerful 800cc buggies are fitted with specialist tyres to help you through, up and over any terrain you come across. And at times it will feel like you're driving on the moon. Being automatic there's no need to faff around with gears, simply keep the front end pointing in the direction you want to travel in and you're away. Although it might be a different matter for your co-driver/passenger as she hangs on for dear life as you bounce, bump and skid over the challenging ground. But there's no need to worry, each buggy is fitted with a roll cage and four point safety harness.