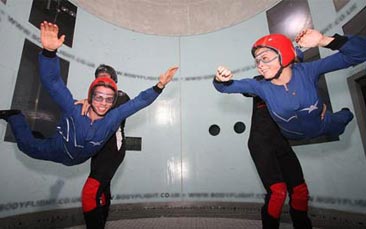 If you're looking for a totally unforgettable hen party experience then they don't get much better than our Prague hen party indoor skydiving. It's a chance to make the bride-to-be feel like Superwoman as she gets airborne, lifted by winds travelling at 300 kilometres per hour.
Our indoor skydiving experience gives you all the thrills of a freefall jump without having to actually throw yourselves out of a plane (so there's no chance of making cartoon-like hen sized holes if your parachutes don't open). This is unlike anything the girls are likely to have tried before and is an extreme adrenalin rush. The rush of air and G-forces can also have some hilarious effects on everyone's faces so be sure to have those cameras at the ready as those 300kmph turbines give you the strangest botox ever!
You'll enter the wind tunnel in pairs or small groups with the rest of the hens watching on as you gurn and fly in the 14 metre tunnel. That means there's always somewhere there to catch you at your least flattering, but don't worry, everyone can get their own back when watching the others. The important thing is just how much fun it is, it's certainly unlike anything you might have tried before which can only add to making the nearly-weds weekend as memorable as possible.
You can also make a full day of it, once you reached the amazing heights of skydiving you can come back down to earth and team up your experience with another of our amazing activities. Alternatively you can enjoy a little retail therapy ahead of a river cruise, or a cheeky male stripper or toast your day out having learnt how to mix your own hen party cocktails. Our team are on hand to help you build the ultimate Prague hen weekend of fun!