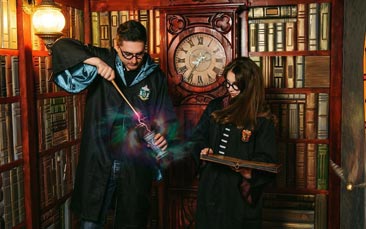 What happens when the boy wizard isn't around to save the world? Well on this occasion it's down to you. You and your troupe of trusty friends are now all that stands in the way of 'he who must not be named' doing a truly dastardly deed. Yes, even with your tender heads and tired dancing feet, you must rally together to ensure that goodness prevails as you enter this hen party Harry Potter escape room. And you can wear fancy dress if that helps.
So, Gryffindor scarves at the ready it's time to do battle.
The professor has gone missing. In a sinister twist, it appears he has been taken captive by dark forces. You've managed to use a spell to break into his office and are looking for clues. Unfortunately, no one thought of how to break back out and you have just 60 minutes before the dark one returns to look for the very clues you must uncover in order to not only escape but save the professor and the whole wizarding world.
Yes, it would be easier if you hadn't had that extra cocktail last night but that's how the dice has rolled and whether your wands are feeling up to it or not this fantastic Harry Potter Hen Party Escape Room challenge will make a brilliant addition to any magical hen weekend.
Please note; Late arrivals of over 15 minutes are treated as a no-show and no refund will be offered under these circumstances.