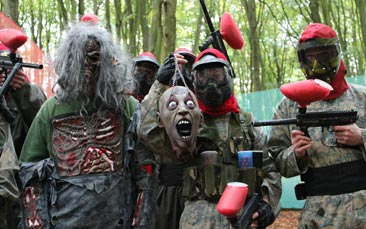 This is one outrageous activity that is definitely NOT for those of a nervous disposition. But if you're fans of things that go bump in the night, are game for a laugh and want something a little bit different, then this all-action night-time zombie splatting adventure really is a winner.

This is a nighttime paintball mission with a difference: you'll be spilt into two teams with one team busy trying to deal with the undead. The other team will actually be playing the role of the zombies and trying to frighten your opponents into submission and turn them into quivering wrecks.

It's slightly bonkers, really energetic and at times totally hilarious. Imagine a real-life "Shaun of the Dead" for hen parties and you're getting the picture. However, for any Hesitant hens they needn't fear too much, with your fellow party-goers playing the role of the walking dead it's all very tongue in cheek and just outrageous fun. Something totally different from the usual hen party activities.

This is kick-ass, non-stop, raucous fun that you'll be laughing about long into your evening cocktails. So raise a glass to the zombie invasion and prepare to kick some zombie backside!