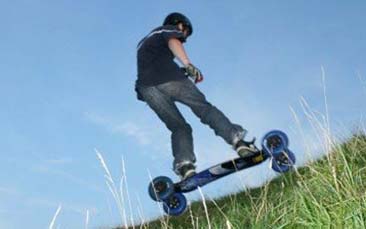 The rise of mountain boarding's popularity has been meteoric, and shows no sign of letting up! Why? It's the perfect, heart-pumping party starter!

Joining the likes of snowboarding, the trend towards mountain boarding isn't peaking any time soon! If you and the girls want to get outdoors and experience something new, fun, and a little wild on your hen do, mountain boarding is a fantastic choice.

Reach new heights of perfection by adding a new skill to your repertoire and show the boys up on the hillsides. It's a brilliant way to enjoy a little friendly competition, as well as see some absolutely breath-taking scenery, and try a new, once in a lifetime sport.

There's no doubt it's a little bizarre and nutty as far as activities go, but that's not to say it's absolutely fabulous, so give it a try! After all, you'll all be novices, which means you won't be the only one falling over and pulling clumps of grass out of your hair. We've got pros there to help you stay on your feet too and even master this fantastic sport, so you can be sure your bum won't end up too bruised.

It's also the sort of activity that's guaranteed to give you some irreplaceable, incredible memories - flying down a mountainside on a board isn't something you're likely to forget any time soon!