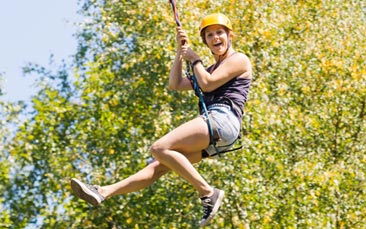 Now, THIS is how you see the beauty that is the Slovenian countryside from above! Get the hens' adrenaline pumping as you whizz across Ljubljana rivers and canyons at speeds of "Whaaarrrrgh!" miles per hour in nothing but a harness and a thin bit of wire to hold you up!
This fantastic zipline activity will let you and the hens experience a bird's eye view of the Ucja River Canyon, sailing across steel cables that stretch over stunning cliffs, fast rapids, roaring waterfalls and pristine pools over the Soa valley. It's not for the faint of heart, and hens will feel like they have nerves of steel once they've conquered this exhilarating and exciting activity that'll make them shout "let's do that again!".
You'll meet your instructors in the gorgeous Ljubljana countryside for a quick safety brief before kitting up in gloves and harnesses and oh-so-fashionable helmets. Don't forget to take a quick #henselfie of all the team together before you prepare to make the descent to your first route. There are eight different routes, all flying you over new and exciting sights that'll see any worries the bride has of table decor and first dances literally whipped away by the speeds of these ziplines!
The Uja river and canyon is a beautiful, untouched area of The Soa Valley that crosses the border into Italy. It's a rushing river that even boats and kayaks don't dare to paddle, so you and the hens will get an unspoiled view without tourists blocking it with selfie sticks. This is something fantastic and totally different for your hen party activity, perfect for challenging the girls and packing lots of adrenaline into your weekend. Prepare for 2km long routes with some starting at a whopping 50 meters high!