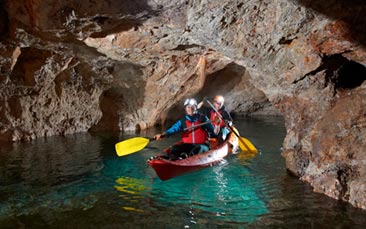 Of course the bride-to-be wants an unforgettable hen weekend and if you really want to give her a hen adventure she'll never forget then this is most definitely it.
Here at GoHen we've seen all kinds of hen party trips and activities but this really is something quite magical. You and the hens will enter a whole underground world with an experienced English-speaking guide leading the way. You'll be kitted up with helmets, torches, life jackets and of course kayaks and be shown how to steer your craft. It's then time to enter the caves like hens to water (!?!).
The labyrinth of tunnels really are breath-taking, the crystal clear water is cleaned through the rocks and it is so perfectly translucent. The bottom seems to go on forever while the walls glisten and sparkle with moisture, and hidden minerals. As you're paddling through the incredible tunnels, rivers, lakes you'll notice the way the sound bounces off the cave walls giving it an even more mythical feel. Incredibly these are actually old abandoned tunnels although there is no sign of Scooby Doo and the gang. "Zoinks!"
But we'd urge you to have waterproof cameras at the ready to capture as much of your journey as possible and can assure you this is most definitely a journey you'll talk about and remember for many, many years to come.